This is only a preview of unpublished case!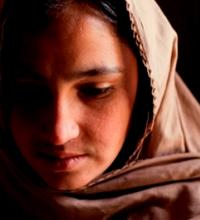 Raped Afghan Girl subject to Honor Killing
Afghanistan, action created 15.10.2014, petition is active
Brishna, a ten-year old girl from the Kunduz Province of Afghanistan was raped by her local clergy in May 2014. She is likely to be subjected to honor killings by her own family or local community. A doctor from the Women for Afghan Women organization, which Brishna is involved with, is also receiving death threats.
Ten-year-old Brishna was raped on May 1, 2014 by the local clergy (Mullah). Shortly thereafter, the organization Women for Afghan Women admitted her for treatment at a hospital.
During her hospitalization, she received death threats from her family and other community members. The Director of Women for Afghan Women, Sarwariová Hassine, told reporters that when she came to pick up Brishnu from the hospital to take her to a shelter, Brishna's aunt and other male relatives wanted to "kill her and throw her into the river."
Brishna spent two months at the shelter. She was then picked up by local police and returned to her family, despite protests by other supporters. The family applied for an honor killing in order to erase the shame and to cleanse the "family shame" through her death.
Sarwariová confirmed that the girl's family and the other mullahs tried to help Brishna, but also received death threats. The man was arrested and accused of raping a minor. He is now in a prison in Kabul awaiting trial. Medical tests showed that the girl was raped in an extremely violent manner.
Case background
In Afghanistan, women are perceived as the embodiment of family honor; often they are also the first to pay heavily for any infringement of customs, traditions, or so-called respectability.
Sexual relationships outside of marriage, whether real or contrived, creates "shame" on the family and puts the family in jeopardy. Honor killings can be initiated by the male members of that same family or by a regional council composed of male elders.
Even rape victims are threatened by honor killings because of the so-called "shamed" family - an act which considers the family a victim.
Discrimination against women and other formal and informal legal systems pave the way for forgiving instances of honor killings, and these killings often come with no penalties.
Customs and traditions are often used - and accepted - in defending the cases of the murders of women and girls. Most cases of honor killings, however, do not enter the formal court because community sanctioned legal mechanisms such shura or jirga limits justice within the community and the tribal council.
The number of female victims of honor killings in Afghanistan is uncertain. But according to the Afghan Independent Human Rights Commission (AIHRC), 243 such killings occurred between January 2011 and May 2013. Honor killings are not legal under Afghan law as stated in the Elimination of Violence against Women (EVAW), and is criminalized as a form of violence against women and girls. The crime of murder is mentioned in Articles 394-397 of the Penal Code, and the maximum penalty for the offence of murder (which honor killings fall under) is "not exceeding two years."