This is only a preview of unpublished case!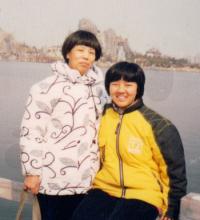 Imprisoned since 2008 for practicing Falun Gong
China, action created 2.4.2014
Chen Xiaoping was arrested in 2008 for practicing Falun Gong. Despite repeated attempts by her lawyer, her family had not seen her since 2009. In prison, she faces great risk of torture or other forms of ill-treatment. Amnesty International considers her a prisoner of conscience, imprisoned solely for exercising her right to freedom of expression and religion.
Chen Xiaoping was found practicing Falun Gong since August 2008 in prison, where she has allegedly "used a heretical organization to undermine the law" for eight years. In prison she is subjected to regular beatings, forced intoxication, drugs and electric shocks to sensitive parts of the body. Her family has not seen her since March 2009. She remains in grave danger of torture and ill health because of the way she is treated in jail.
According to a report of a prisoner who has been released from the prison, Chen Xiaoping refused to undergo "transformation," which is the process by which people of Falun Gong practitioners are forced to abandon their faith. It can be assumed that she is still being tortured and mistreated. According to the said report, two persons designated as "Baojie" were instructed to monitor and sometimes torture other prisoners. Those whoa re imprisoned are often subjected to hours and days of "brainwashing." Chen Xiaoping is probably prevented from sleeping by holding onto her feet, after which she will start seeing blurs as effect on her mind.
In July 2008, Chen Xiaoping, without warning and without a court order, was arrested at her home in Henan province. For ten days, her family received a notice from the police concerning her detention. She is trapped in a women's prison in Henan Province.
Since her detention, Chen Xiaoping has been denied the opportunity of legal representation, and since March 2009 also the possibility of any family visits. Efforts of her lawyer and some of her family members to get information regarding her place of residence, conditions and health were repeatedly thwarted. Those who helped were personally threatened and pressured to give up the case.
Case background
Spiritual practice of Falun Gong: Falun Gong is a spiritual teaching based on traditional Chinese breathing and meditation exercises which in China during the 90's gained a large number of supporters. Falun Gong practitioners focus on the cultivation of character by following spiritual principles such as truthfulness, compassion and tolerance - universal principles of human existence. Falun Gong combines mental cultivation and a cultivation of the body (using five simple exercises).
Although it is difficult to ascertain the number of individuals practicing Falun Gong in contemporary China, official Chinese sources and sources estimated that in the 90's millions of Chinese citizens practiced Falun Gong. If Falun Gong practitioners refused to recant their beliefs, they are subjected to cruel treatment during detention.