This is only a preview of unpublished case!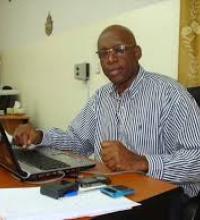 President of human rights NGO in Congo faces up to 20 years in prison!
Congo, action created 3.4.2015, petition is active
Christopher Ngoyi Mutamba is the chairman of a nonprofit human rights organization. In January 2015, the Congolese authorities arrested him in Kinshasa, capital of the Democratic Republic of Congo (DRC).
Mutamba previously took part in peaceful anti-government demonstrations, that concerned an appendix in the electoral law that would allow the term extension of the current Congolese President.
Mutamba was held for 20 days in isolation. They accused him, among other things, of civil disobedience and the incitement of racial hatred. As such, he faces up to 20 years in prison. Amnesty International considers his arrest as an effort to suppress any anti-government critics in the DRC. Amnesty asks the DRC for a fair trial.
In January, anti-government demonstrations took place in Kinshasa. Some of these demonstrations escalated into violent clashes that resulted in the death, injury and arrest of many people. The authorities arrested Mutamba and imprisoned him on 12 February, 2015. The first hearing took place on March 18, 2015.
The Congolese authorities argue that Christopher Ngoyi Mutamba organized the protest against the proposed amendment in Kinshasa between 19 and 21 January. Mutamba was accused of spreading false rumors and propaganda, incitement to racial hatred, civil disobedience, and looting.
The criminal prosecution of this human rights activist may be politically motivated due to his anti-addendum activities. This amendment would allow the current President Kabila to prolong his presidential term. Access and communication to arrested protestors remain low, and it is questionable whether or not Mutamba will be granted a fair trial. Amnesty International believes that the Congolese authorities' restriction of the right to freedom of expression and peaceful assembly during the public debate on electoral law, is a violation Articles 13, 21 and 22 of the International Covenant on Civil and Political Rights (ICCPR) and Articles 23, 26 and 37 of the Constitution of the DRC.