This is only a preview of unpublished case!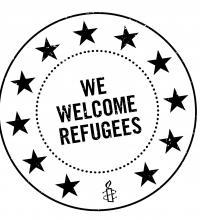 EU paralyzed by the Humanitarian crisis in Greece
Greece, action created 4.3.2016, petition is active
Thousands of refugees, asylum seekers, and migrants remain imprisoned in Greece under dire conditions and without access to assistance and protection. This is especially due to the arbitrary and discriminatory closing of borders along the Western Balkan regions. With the expected arrival of more refugees, the humanitarian situation will continue to worsen unless the EU begins accepting refugees from Greece.
An estimated 10,000 refugees, asylum seekers, and migrants - including dozens of families with small children, people with disabilities, and pregnant women - are currently being held at the Greek border with Macedonia. Intermittent border closures and discriminatory border practices have recently been introduced to slow down the flow of people on the Western Balkan route, throwing these individuals into dire circumstances. On February 19th, the border between Macedonia and Serbia was closed for Afghan nationals - a group which represents a full 30 percent of immigrants to Greece. They are left without regular access to sanitation and face shortages of food and water. Many of them remain on the streets and are exposed to adverse weather conditions. Their living situation negatively impacts their health, in a place where access to healthcare is limited.
The humanitarian situation is also rapidly deteriorating in other parts of Greece where authorities are trying to slow down the stream of people passing through their borders. The capacities to receive refugees have been stretched to the limit in cities like Athens. Amnesty International has witnessed men, women, and children sleeping in the open air in the center of Athens and the port of Piraeus. Every week, the Greek islands receive thousands of people fleeing violence and conflict, but their receiving conditions are not critical. According to the UNHCR, in February, the Greek islands received around 1,900 people daily, while more than 2,700 people arrived during the first two days in March. 57 percent of these people are women and children.
According to the Greek authorities, a total of 32,000 people remain stranded in Greece. The UNHCR expects this number will reach 70,000 in the coming days. This dramatically increases the number of people imprisoned in Greece who seek international protection. While the Greek authorities are struggling to come with the extremely high number of arrivals, refugees lack any access to effective asylum procedures. And because of the failed implementation of the EU's relocation program, out of 160,000 people that the EU agreed to accept, only 295 have left Greece.
Case background
On February 18, the security authorities of Austria, Slovenia, Croatia, Serbia, and Macedonia acknowledged an agreement for enhanced cooperation. The aim was to establish a single registration process for individuals passing through the Western Balkan regions, while also limiting the number of intakes. In addition, Austria announced in February its intentions to reduce the number of asylum applicants to 80 a day. These limitations triggered a wave of border closures and discriminatory practices on the Western Bakan route. The already discriminatory border practices only worsened in February, when Afghan nationals were denied access on this route. Only Syrians and Iraqis were allowed to cross the border and even then they are denied passage unless they have the necessary travel documents. According to a recent survey by the UNHCR, 71 percent of Afghans who arrived in Greece in January 2016 fled from violence and conflict.
The Greek authorities have announced the opening of two new reception centers in order to accommodate more refugees. Despite this increase, Greece's capacity remains greatly limited, especially if the number of arrivals are to increase even with the closure of certain borders. Groups of volunteers and non-governmental organizations continue to strive to meet the basic needs of those already stranded in Greece.
Meanwhile, the situation on the Greek border with Macedonia remains very tense. On February 29, Amnesty International witnessed the use of tear gas by the Macedonian police that forced refugees and asylum seekers to retreat.