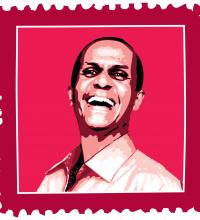 Ethiopian journalist sentenced to 18 years for article criticizing the government
Ethiopia, action created 1.10.2013, petition is active
Journalist Eskinder Nega was arrested in September 2011 after making speeches and writing articles critical of the Ethiopian government. He was charged with "participation in a terrorist organization" and sentenced to 18 years in prison. Amnesty International considers Eskinder Nega a prisoner of conscience, sentenced for exercising his freedom of speech.
Eskinder Nega was arrested on the 14th September 2011, shortly after the Ethiopian New Year, for giving speeches and writing articles criticizing the government and requesting it to respect the right of freedom of expression. He was put on trial for supporting terrorism, and on 27 June 2012 was found guilty of "training and incitement to terrorist acts", "activities of a terrorist organization" and "high treason". He was sentenced to 18 years in prison. Amnesty International therefore considers him a prisoner of conscience, sentenced merely for exercising his right to free speech.
Eskinder Nega has been tried and imprisoned multiple times. His eighth trial was one in 2005, when he and his wife were detained for 18 months for journalistic activities about post-elections protests. Eskinder's wife gave birth to their first and only son while in prison.
Case background
The Ethiopian People's Revolutionary Democratic Front (EPRDF) has ruled for more than two decades. Meles Zenawi's government (1995-2012) systematically took steps to crush dissent in the country by jailing opposition members and journalists, firing on unarmed protesters, and using state resources to undermine political opposition.
In December 2005, 131 prominent opposition leaders, journalists and civil society activists, including Eskinder Nega and his wife Serkalem Fasil, were charged with a range of capital offences, including treason, outrages against the Constitution and incitement to armed uprising. They faced the death penalty if found guilty. In the same year, the government closed dozens of independent journalistic outlets; 13 of these remain closed and many journalists have not yet regained their licenses.
On June 24, 2013, an article was published in the New York Times regarding a letter sent by 16 Ethiopian prisoners to the Prime Minister Hailemariamu Desalegnovi. This letter expressed dissatisfaction over the continued detention of Eskinder Nega, pointing out that the Ethiopian government is obliged to respect the freedom of expression. The Ethiopian government responded by saying that "Mr. Eskinder Nega is not on trial for freedom of speech and criticism of the government, but for his terrorist acts."