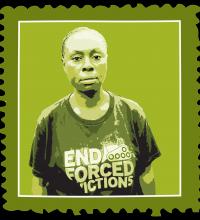 Over 250 homes demolished in Badia East, Hundreds of people left homeless
Nigeria, action created 2.12.2013, petition is active
Badia East is a slum in the city of Lagos, Nigeria's capital city. On 23 February, 2013, the Lagos state authorities demolished 266 homes without contacting the inhabitants. People were not allowed to take anything from their houses before they were destroyed, and people who protested were beaten or arrested. Amnesty International considers these forced evictions a gross violation of the human rights of the residents of Badia East.
On 25 February, the displaced residents of Badia East marched to the Lagos state's governor's office in protest and demanded an audience with the governor. He did not see them, and the three representatives he sent only accepted two questions and did not provide any answers relating to the issue of the forced evictions. The citizens were further imposed upon on the 25 March, 2013, when the government forces returned and destroyed the makeshift homes the citizens had created, rendering them homeless for a second time. Additionally, men working to build a water storage system to provide water for the settlement were arrested. These actions have been taken as the first step of a three-phase plan to demolish all of Badia East.
Case background
Lagos is the capital of Nigeria, and Badia East is one of many slums within the city. Badia is the subject of an ongoing court action, pitting the Ojora Chieftain family against the area's residents. Additionally, it is one of many slums slated to be improved with a $200 million grant from the World Bank.
Forced eviction is not illegal under Nigerian law, although Nigeria claims to uphold various international laws that prohibit forced evictions.
Amnesty International has been working with the citizens of Badia East, giving them information about housing rights and issuing a report demanding the government compensate the displaced citizens.