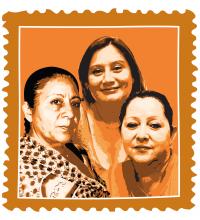 Relatives of the Detained and Disappeared Harassed in Honduras
Honduras, action created 29.11.2013, petition is active
Members of COFADEH, the Committee of Relatives of the Detained and Disappeared in Honduras, are being harassed in Honduras. Members of the group have been monitored and unjustifiably attacked. COFADEH, originally founded in the 1980's, has always been threatened, but the instances of violence and discrimination against its members has increased in the last few years. Amnesty International believes these actions are occurring because of their actions on behalf of the detained and missing.
The Committee of Relatives of the Detained and Disappeared in Honduras (Comité de Familiares de Detenidos Desaparicidos y en Honduras - COFADEH), is one of the leading human rights organizations in the country. It was originally established to document the disappearance of people in the early 1980's, at which time there were approximately 200 such people being held in custody.
In recent years COFADEH has expanded its mandate, and is very active in the field of human rights violations. While members have been repeatedly threatened in the past, the number of threats has risen significantly since 2011. In response to this increase, the Inter-American Commission on Human Rights called on Honduras to protect all human rights defenders who are operating in the country.
Since 2011, severable notable events have occurred against COFADEH members. Many have been sent messages stating they are being watched or have notices unidentified men outside their homes. One coordinator received a text message that said simply "RIP". In 2012, Dina Meza, director of COFADEH's website, received a series of threats of sexual violence. She has also reported being followed and photographed by unknown men while with her family. In April 2012, founding member Nohemí Pérez was physically and verbally threatened while arriving at the COFADEH office.
Case background
Human rights defenders in Honduras are often harassed and verbally or physically attacked. The prosecution of perpetrators in these cases is rare, and this only contributes to further attacks. The Inter-American Commission on Human Rights has the authority to require governments to adopt measures protecting individuals at risk, and did so in November 2009 when asked the Honduran authorities to protect members and staff of COFADEH. However, these requests only partially adopted.