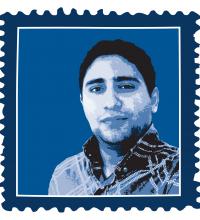 Tunisian activist on Facebook sentenced to prison and fined
Tunisia, action created 1.10.2013, petition is active
Jabeur Mejri was sentenced on 28 March 2012 to seven-and-a-half years in prison and a fine of 1200 Tunisian Dinars (US$757) after a court in the eastern city of Mahdia ruled that posts he made online were insulting to Islam and Muslims. Amnesty International considers Jabeur Mejri a prisoner of conscience, imprisoned merely for expressing his right to free speech.
Jabeur Mejri was arrested on March 5, 2012, a few days after two lawyers in Mahdia filed a complaint regarding the articles and pictures of the Prophet Muhammad published on Mejri's Facebook profile. According to court documents examined by Amnesty International, Jabeur Mejri has stated that the pictures came from a friend, Ghazi Beji, who considers himself an atheist. Beji fled the country to avoid imprisonment and was tried in absentia; he has applied for asylum in France. Mejri is currently in prison, serving a 7.5 year sentence. Amnesty International considers Jabeur Mejri a prisoner of conscience, imprisoned for peacefully exercising his rights to freedom of expression and belief.
Case background
The Tunisian authorities have repeatedly resorted to using Articles 121(3) and 226 of the Penal Code as well as Article 86 of the Telecommunications Codesince 2011 to restrict freedom of expression. Among those they have targeted have been journalists, artists and bloggers. These articles, which date back to the Ben Ali era, prescribe punishments for the offences of "violating sacred values" and "disturbing the public order and morals". Punishments under these codes vary from 6 months to 5 years in addition to a fine.
The Tunisian authorities have shown on several occasions that they are wholly unwilling to respect freedom of expression. Tunisian representatives have repeatedly declared their commitment to these freedoms, yet Tunisia has rejected recommendations to decriminalize defamation, raising doubts about Tunisia's promises. At the national level, the second draft of the new constitution being prepared by the National Constituent Assembly, which was published in December 2012, does not fully protect the right to freedom of expression, allowing it to be restricted as defined by law, a provision that leaves the door open for possible undue restrictions of the right.