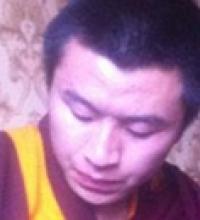 Tibetan monk detained in China without charge!
Tibet (occupied territory), action created 28.5.2015, petition is active
Tibetan monk Choephel Dawa was detained on March 28 and there has been no known information about him since then. The location where Dawa is detained and the charges against him are unknown. He faces a risk of torture and maltreatment.
Tibetan monk Choephel Dawa (age 27) was arrested by local police on the night of March 28th in Sog, a prefecture of Nagqu Prefecture of Tibet Autonomous Region. It is unknown where he is being held. He has no access to a lawyer or his family members. While the reason for his detention is unknown, people from the neighborhood believe that Dawa is detained because he shared photographs of the Dalai Lama on WeChat, a popular messaging application in China. Choephel Dawa is from the monastery of Sog Cchandem Jagla in the district of county Sog. All inhabitants of the village are under strict supervision of the Chinese authorities for their activist past. Choephel Dawa was first arrested in January 2012 and sentenced to two years for photos on his cell phone depicting Tibetans' self-immolation in protest against the Chinese rule.
Torture and ill-treatment of detainees occur in all facilities intended for detention, and the risk increases proportionally among those who are not allowed to contact their families or lawyers.
Case background
Ethnic Tibetans in China face discrimination and restrictions on the right to freedom of religion, expression, assembly, and association. Since the mass protests in 2008 against the Chinese rule, the Chinese government has intensified its oppression in Tibet and imposed strict military and security checks on Tibetans. Authorities continue to impose "patriotic education" upon Tibetans, which includes forcing the Dalai Lama to express support for the Chinese Communist Party. Tibetan monks and nuns are the main target of the Chinese authorities' campaign, which focuses on the education of "patriotism".