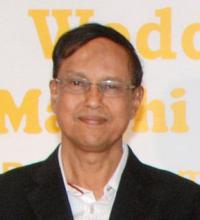 Burmese doctor jailed for 17 years for allegedly inciting violence
Myanmar [Burma], action created 2.12.2013, petition is active
Dr. Tun Aung was arrested on June 11, in Rakhine state, western Myanmar and has been held in detention without any communication to his family or lawyer since being arrested. He is a practicing medical doctor and the chairman of the Islamic Religious Affairs Council in Maungdaw. Dr. Tun Aung is accused of inciting communal violence after riots broke out in Maungdaw, Rakhine state, which he had been asked to try to defuse by local authorities due to his position of respect in the community. We believe the criminal charges waged against Dr. Aung are unfounded, and regard him as a prisoner of conscience.
After rising tempers due to the heightened ethnic tensions in the region, having been summoned by the police, Dr. Aung actively tried to calm an agitated crowd – only to be arrested later that week by the same people he had agreed to help, and charged with inciting violence.
Initially, when Dr. Aung was taken, his family had no idea of his whereabouts. After a few weeks they learned that he had been taken to a prison 170km from his home. He has remained there since, virtually isolated, with very little communication with a lawyer or his family.
Dr. Aung wasn't allowed to choose his own lawyers, which diminishes his chances of a fair trial, and the prosecution won an appeal to extend his sentence from 11 to 17 years on the basis that the shorter sentence was 'too lenient'.
We believe that Dr. Aung has been detained because the authorities were looking for individuals to blame, and was targeted for exactly the same reason he had been asked to help: his position as a Muslim community leader.
Case background
Dr. Aung's case is no exception. The practice of transferring prisoners to remote locations began in 2008 in Burma as a method of further punishing both them and their families.