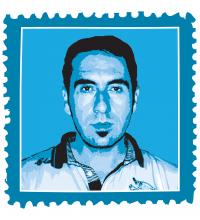 Turkish bus driver beaten while walking home
Turkey, action created 1.10.2013, petition is active
Hakan Yaman, from Istanbul, was seriously wounded in June 2013 while he was returning home from work. He was beaten by police because they believed he was participating in the nearby anti-governmental demonstration, which took place near his residence. He ended up with a fractured skull, nose, collarbone and jaw, as well as complete loss of vision in one eye. The policemen responsible have not been punished. Amnesty International considers the gross use of force and violence by the Turkish police in the repression of peaceful protests to be a gross violation of the rights of free assembly and free speech.
Hakan Yaman, a 37 year-old father of two, was beaten by police near his home in the Sarıgazi district of Istanbul on 3 June.
At around 11pm Hakan Yaman was returning home after finishing work as a minibus driver. He parked his vehicle a couple of streets away from his house and proceeded to walk home. A demonstration was taking place on the nearby Demokrasi Avenue.
In his own words, this is what he told Amnesty International about what happened:
"I saw some riot police a few hundred meters away. I was first sprayed by water cannon. Then I was hit in the stomach with a tear gas canister and I fell down. Around five police officers came over and began hitting me repeatedly on around the head. One of them put a hard object into my eye and gauged the eye out. By then I was lying down, without moving. I heard one of them say 'this one is finished, let's completely finish him off'. They dragged me about 10 to 20 meters and threw me onto a fire. They left and I dragged myself out of the fire. I was then taken by some of the protestors to the hospital."
According to the forensic medicine report Hakan Yaman sustained serious injuries to his head and face. His nose, his cheek bone, and the bones of his forehead and his chin were broken. He lost one eye completely and has lost 80 percent of his sight in the other eye. His skull was fractured from the top of his head all the way down to his jaw and his back sustained second degree burns from being thrown on the fire. He lost consciousness during the attack.
A witness saw what happened from their window and filmed part of the attack on their camera phone. In the video two riot police can be seen next to a water cannon vehicle, with around four others, dragging a man along the ground towards a fire.
Hakan Yaman has made a criminal complaint on grounds of attempted murder. In the beginning of September, three police officers made a statement to the prosecutor refuting the allegations that they beat Hakan Yaman. As of 11 September 2013, no arrests had yet been made.
Case background
Gezi Park protests
On 30 May 2013 police in Istanbul broke up a small demonstration by several hundred environmentalists, using tear gas, beating protestors and burning their tents. The cause of the protestors and the abusive response of the authorities touched a nerve. Within days, tens of thousands of protestors had taken to the streets across the main cities of Turkey. By the middle of June hundreds of thousands had taken part in "Gezi Park protests" that spanned almost every one of Turkey's 81 provinces.
The Gezi Park protests began as part of a longstanding campaign against the destruction of the park, which was taking place as part of the redevelopment of the Taksim area. Protestors argued that the park was one of the last green spaces left in central Istanbul and the plans are reported as including a replica 19th century Ottoman barracks, Topçu Kışlası and the construction of a shopping centre and mosque. Anger was caused not just by the destruction of the park, but also because of the means by which the decision for the redevelopment project was taken typical said critics, not only of urban regeneration projects but of a government that did not respect their interests or opinions.
The authorities dismissed the protestors by using abusive language and denying them their right to peaceful protest; this instigated more mass protests. The widespread police use of tear gas, water cannons and violent beatings of protestors during overwhelmingly peaceful protests added to the anger, as did the escalating negative rhetoric used by the government against the protestors, supporters and groups defending their rights. The mainstream national media was also criticised for its failure to properly cover the protests or to represent the views of the protestors in their reporting. CNN Turk's decision to air a pre-scheduled two-hour documentary on penguins during the first weekend of mass protest across Turkey became symbol for self-censorship in the national media in general.
During the first weekend of June, protests that had began in the few days before spread across the city and in several other provinces. Police intervened against protestors with water cannons and tear gas, injuring over 2,000 people between 29 May and 2 June across the country.
According to the Turkish Medical Association, by the end of June over 8,000 people had been injured. By mid July three deaths of protestors were thought to have been a direct result of police violence. Over eleven people lost an eye as a result of plastic bullets or tear gas canisters fired from close range and inappropriately aimed directly at protestors.