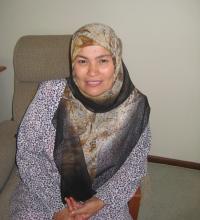 Dilorom Abdukadirova sentenced to 18 years for participating in peaceful protest
Uzbekistan, action created 30.4.2014, petition is active
Dilorom Abdukadirova, a prisoner of conscience, is serving an 18-year sentence in Tashkent Women's Prison, Uzbekistan. She was imprisoned after she returned to Uzbekistan in January 2010 to be reunited with her husband and children. She had fled the country after the events in Andizhan in 2005 when hundreds of individuals, including women and children, were killed when security forces opened fire on mostly unarmed demonstrators. In April 2010 Dilorom Abdukadirova was sentenced in a trial that violated international fair trial standards and she was allegedly subjected to torture and other ill-treatment while in pre-trial detention. Her brothers and sisters fear that she is again ill-treated in prison. Amnesty International considers that Dilorom Abdukadirova is a prisoner of conscience and that the charges against her have been brought to punish her for peacefully exercising her right to freedom of peaceful assembly and expression.
In the morning of 13 May 2005, Dilorom Abdukadirova went to Babur Square in the centre of Andizhan with other concerned citizens to voice her concerns regarding the state of the economy, hoping that they would be heard by Islam Karimov, the President of Uzbekistan. Rumours were circulating around Andizhan that the President had come to the city to address the protesters. However, the President did not meet with the protesters and in the afternoon security forces opened fire on the demonstrators in Babur Square. Dilorom Abdukadirova was among 500 protesters who managed to escape from the square and flee to Kyrgyzstan on foot, the border of which is about 25 kilometres away. She had to leave her husband and children behind. From Kyrgyzstan she was moved to a refugee camp in Romania. While in Romania she applied for and was issued an Australian refugee visa. She arrived in Australia in February 2006, where she was recognized as a refugee and granted permanent residency. After receiving assurances from the Uzbekistani authorities that nothing would happen to her if she returned home, she did so. Local authorities also repeatedly assured Dilorom Abdukadirova's family that she could return without fear of reprisal. She travelled back to Uzbekistan to be reunited with her husband and children in January 2010. However, she was detained upon arrival at Tashkent airport because she did not have a valid exit permit in her passport. She was questioned for four days by Tashkent police and she was released after they charged her with "illegal exit" from the Republic of Uzbekistan under Article 223 of the Criminal Code of the Republic of Uzbekistan. After her release she was able to return to her family in Andizhan. At the end of January her case was transferred to the local police department in Andizhan and she was then frequently called to the local police department for questioning.
On 12 March 2010, she was detained again and kept in a cell at the Andizhan police department for two weeks, without access to a lawyer or her family. She was eventually brought to trial in April 2010 on charges of attempting to overthrow the constitutional order and of illegally exiting and entering Uzbekistan without an exit permit. The court claimed that Dilorom Abdukadirova was a member of a banned Islamic group called Akromiylar and concluded that, along with fellow members of the group, she participated in a violent demonstration on 13 May 2005 at the Andizhan town hall on Babur Square and then illegally crossed the border into Kyrgyzstan, in an attempt to escape the authorities. Furthermore, they accused her of giving interviews to foreign reporters while living in a refugee camp, where she allegedly spoke out against the actions of the security forces and the Uzbekistani authorities. On 30 April 2010 she was sentenced after an unfair trial to a 10-year and two-month imprisonment. The Andizhan Regional Criminal Court found Dilorom Abdukadirova guilty under Articles 139 "Denigration", 159 "Attempts to Overthrow the Constitutional Order of the Republic of Uzbekistan", 223 "Illegal Exit from or Entry to the Republic of Uzbekistan" and 224 "Violation of Regulations of Stay in the Republic of Uzbekistan".
Dilorom Abdukadirova asserts that she is not guilty and that she has not committed any of the crimes she was charged with.
Case background
Torture and other ill-treatment is widely used for "investigation" purposes as a means of extracting "confessions". Besides, a handful of well-publicized releases, several thousand people, including dozens of women, convicted of involvement with Islamist parties or Islamic movements banned in Uzbekistan, as well as government critics, political opponents and human rights activists continue to serve long prison terms under conditions that amount to cruel, inhuman and degrading treatment. Many have had their prison terms extended for allegedly violating prison rules of conduct following summary and closed trials held inside detention facilities.