This is only a preview of unpublished case!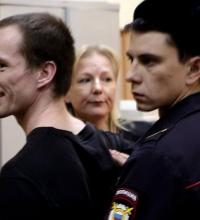 RUSSIA: Release Activist Ildar Dadin from Prison!
Russia, action created 25.4.2016, petition is active
On 7 December 2015, activist Ildar Dadin was sentenced to three years in prison for "repeated violations of the law on public assemblies" (Article 212.1 of the Russian Criminal Code). Ildar Dadin became the first person sentenced under this newly introduced (in July 2014) article of the Criminal Code.
Under this article, a person who violates the law on public assemblies (which in itself restricts the right to freedom of peaceful assembly) and receives administrative punishment for it more than twice in the course of 180 days can be criminally prosecuted and sentenced to prison. On 31 March 2016, Ildar's sentence was reduced on appeal to two-and-a-half years.
Ildar Dadin was found guilty of this "crime" in connection with his participation in four peaceful actions in 2014, including a rally in support of opposition activist Aleksei Navalny and his imprisoned brother Oleg, and a picket in support of "Bolotnaya prisoners" (i.e., those serving prison sentences after a peaceful protest against President Putin).
On 15 January 2015, whIle holding a picket in support of Charlie Hebdo, Ildar was arrested and sentenced to 15 days in detention. On the last day of his detention he was taken to Basmannyi District Court in Moscow where he was to be tried under the Code of Administrative Offences for his actions on 5 December 2014. The judge, however, decided to close the administrative case and pass on the materials for a criminal investigation. That same day, a criminal case was opened, and on 3 February 2015 Ildar was placed under house arrest. After his sentencing on 7 December 2015, Ildar Dadin was imprisoned.
Ildar Dadin is a prisoner of conscience who has been deprived of his liberty solely for peacefully exercising his right to freedom of expression. He must be released immediately and unconditionally.
Case background
Over the past year, the number of peaceful protests in Russia have drastically reduced. This is thanks to restrictions imposed by the Russian government. Organizers are often not given permits for peaceful gatherings, and are thus forced to move outside the city center. Those who do not abide by these regulations are either penalized or arrested. For the first time in 2005, an annual street event in Novosibirsk that mocks the pompous May Day March was cancelled last year. Event organizer Artem Loskutov was arrestED and sentenced to ten days in detention.
In 2014, peaceful protestors faced a new Russian law (under the Law on Public Assembly) which criminalizes the recurring participation of individuals in unapproved collective gatherings. The law criminalizes anyone who has been found guilty of the same crime at least twice during a span of 180 days. The arrest and subsequent incarceration of Ildar Dadin merely proves the Russian government's attempts to accelerate and shorten the process of arresting peaceful protestors, which are both byproducts of this new law.
An example of a violation of this law is the fining of peaceful protestors who remain in custody, after fifteen counts of involvement with peaceful rallies without the permission of Russian authorities. Three such "wrongdoings" constitute a criminal offense which is punishable up to five years in prison.
Ildar Dadin was a former employee of a security agency near Moscow. In recent years he has attracted much attention with his peaceful activism. In 2011, he was an observer of the Russian parliamentary elections. He often participated in various anti-government rallies, and also supports LGBTI communities. Ildar has helped other activists who have gotten in trouble with the Russian authorities.
Fiancée Anastasia Zotovová leads the campaign to for the release of Ildar Dadin. She organizes regular demonstrations and campaigns on social networking sites. Please see: http://www.twitter.com/search?q=%23FREEDADIN&src=typd">#FreeDadin>